Powder coating is in high demand and is used to customise finished and semi-finished metal products and make them more resistant to weathering. It consists of a dry process that uses electrostatic energy to make the powder paint stick to the metal, creating a beautiful protective coating.
The powder is applied manually to the surfaces using special electrostatic spray guns. Once coated, the products are placed in a drying oven at very high temperatures (around 180-190°C), as the heat makes the powder stick perfectly to the metal.
The advantages of powder coating
Powder coating has several advantages compared to liquid paint. Here are the main ones:
it is an

environmentally-friendly solution

because only a small percentage of paint is lost in the process and can be easily recovered from the spray booth

because it is

solvent-free

, powder coating has a reduced environmental impact and makes it less expensive to ensure the workplace is healthy and clean 

creates

excellent results with a variety of finishes

(glossy, matte, soft-touch, wrinkle, metallic, etc.)

and colours

the

process is faster and easier

it is highly

resistant to corrosion

and weathering

it has a

thicker, high-coverage layer

for greater scratch resistance

it provides a

durable finish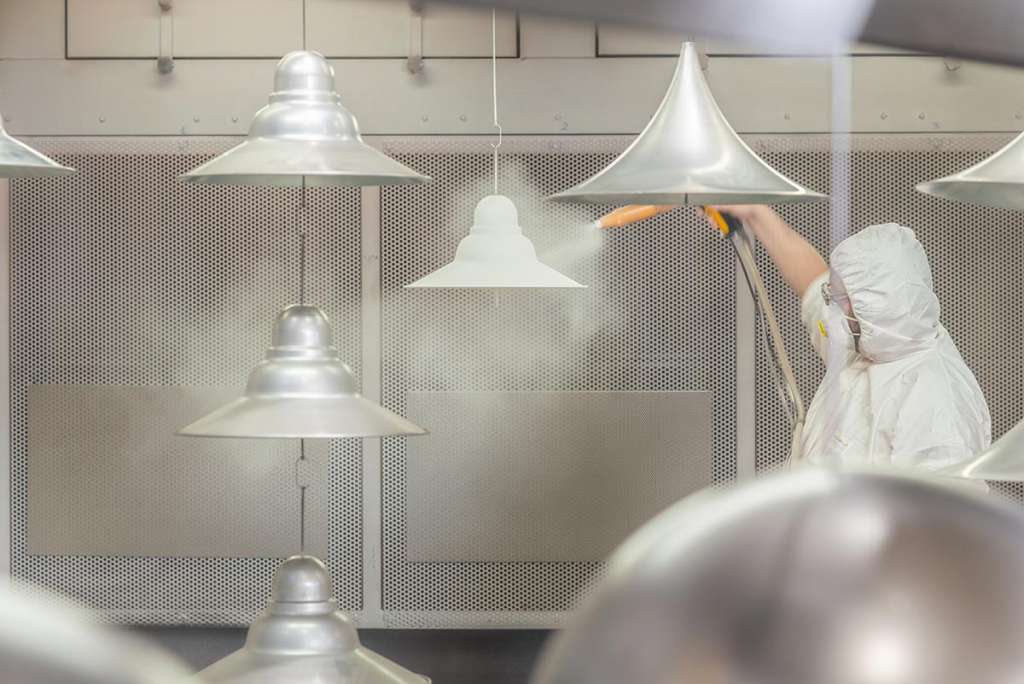 Which metals can be powder coated?
Virtually all types of metal can be powder coated.
Pesce Metal Factory uses this technology to paint iron, steel, aluminium, copper, brass and galvanised materials.
The company takes care of every stage of the process in its own painting department, ensuring excellent quality to customers while also reducing the time it takes to do the job. 
Contact us for more information on this process.